۞۞۞۞۞
I don't know why I do this to myself but I just started re-watching Glee and it's KILLING me. I remember watching it live a couple of years ago and loving it but as time passes, it's easy to forget how great something was. Not to mention, the entire series has a gray cloud over it every time I watch it knowing that Cory Monteith (Finn) is gone.
I remember when I was watching the show for the first time I LOVED Puck and Quinn. She was (is) a goddess, and Puck has that bad boy image that every girl swoons over (now he really does after Mark Salling was charged with possession of child pornography).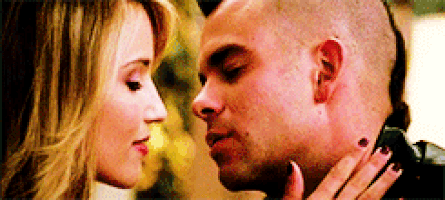 Now that I am going through all of the episodes again it's funny how much has changed. Not only with the actors of the show, but with who I like and who I don't the second time through.
It's so strange watching Finn knowing that he has been dead for a couple of years now and it makes me want to cry even at his happiest scenes. To say death is an ominous thing would be an understatement. It's life's one true mystery.
I remember when I heard that Lea Michele and Cory Monteith had broken up (they were on and off until his death) I used to think, "I wonder if she watches old episodes when their characters were happy. That would be so sad." Now I can't imagine how hard it must be, even after a couple of years. I know I would just watch all of his episodes to see his face and to hear his voice. Who am I kidding, I do that and I didn't even know him. I don't think I will ever understand how people can move past losing someone close to them.
And it's easy to fantasize about things like TV shows and actors... I tend to build things up in my head a lot and the reality of their relationship was probably really hard and sad. He obviously had a drug problem and she is apparently a lot to deal with (according to sources in Hollywood). I even watched some interviews with them and I always picture him to be Finn: this goofy, adorable, genuine guy. But he even addressed how different he was saying, "I'm really just an asshole." So why am I letting myself get so sad about things I have no real understanding of?
Because no matter how different reality may be, he was a part of my childhood as Finn. And he died. His life is just cut short and his last defining moment was when he overdosed alone in a hotel room. It's heartbreaking.
۞ ally ۞
#glee #rachel #finn #finchel #leamichele #corymonteith #rachelberry #finnhudson